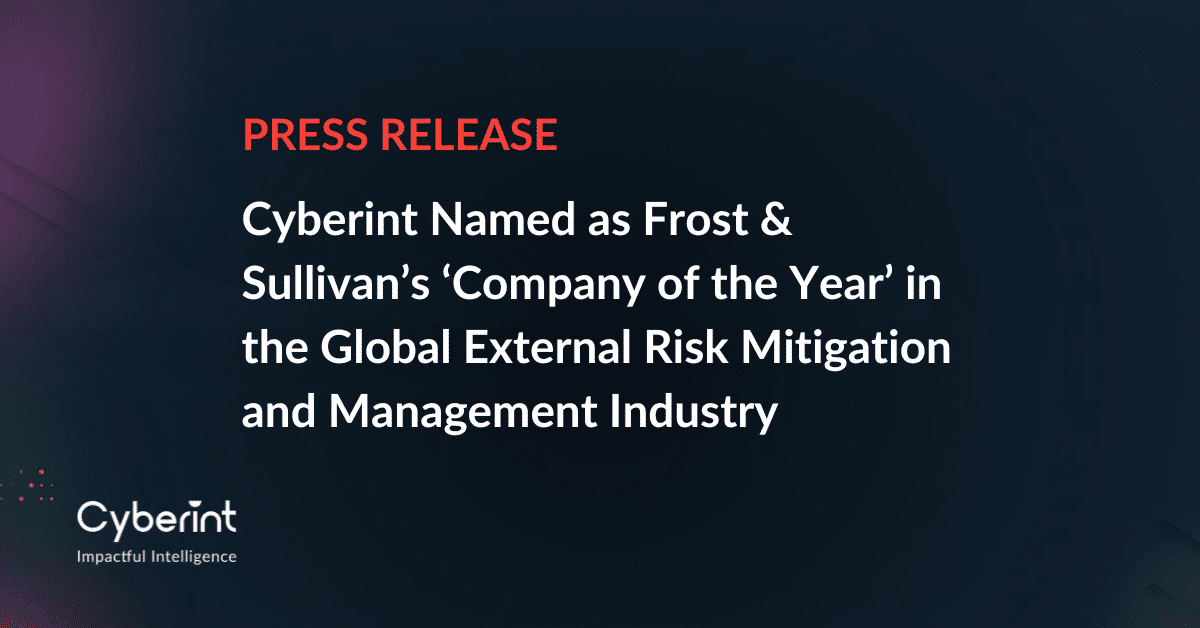 Cyberint's holistic approach offers unmatched visibility, in-depth threat insights, and continuous risk monitoring with an unparalleled market understanding, according to Frost & Sullivan. 
Tel Aviv, Israel – November 1st, 2023 – Cyberint, the leader in impactful intelligence, is proud to announce that it has been recognized as the "Company of the Year" in the Global External Risk Mitigation & Management (ERMM) industry by Frost and Sullivan. Click HERE to get the full report. This prestigious award is given to the company that demonstrates the highest levels of innovation, market performance, and customer experience.
While many enterprises rely on a patchwork of point solutions to protect their external attack surface, this approach often introduces challenges, such as increased total cost of ownership (TCO), tool fatigue, IT complexity, and information overload. Cyberint's end-to-end visibility, contextual threat intelligence, and continuous risk monitoring, overcome these challenges with a streamlined approach and unified view, eliminating blind spots and maximizing effectiveness.
Cyberint's modern approach to cybersecurity distinguishes itself from conventional vendors. While many cybersecurity providers offer threat intelligence data, few can present a complete view, as their sources primarily consist of indicators of compromise (IoCs) and open-source intelligence (OSINT) data points. In contrast, Cyberint has continually expanded the number of threat intelligence sources it collects, including dark web forums and social media platforms, to enhance contextual understanding and gain deeper insights into threats.
"Argos and Cyberint's managed remediation offerings serve as a business enabler, significantly improving an organization's security posture, MTTR, and overall productivity, fulfilling the vendor's vision of 'Impactful Intelligence', and providing an optimal solution for customers that often do not possess the wider cybersecurity expertise in-house," added Martin Naydenov, Sr. Industry Analyst at Frost & Sullivan. With its strong overall performance, Cyberint earned the title of Frost & Sullivan's 2023 Global Company of the Year Award in External Risk Mitigation & Management.
The impactful intelligence company's foresight into the need for a comprehensive security posture led to enhancing its External Attack Surface Management (EASM) module. This enhancement includes third-party risk management capabilities reflected in a dedicated supply chain intelligence module. This module provides customers with a continuous monitoring and evaluation of the risk profile of their suppliers, partners, and vendors, allowing them to take immediate action in case of a data breach.
"The recognition from Frost & Sullivan naming Cyberint as 'Company of the Year' in the Global External Risk Mitigation and Management Industry is a testament to the hard work and dedication of our team, as well as our unwavering commitment to providing cutting-edge cybersecurity solutions." Said Yochai Corem, CEO of Cyberint. "We believe that reliable, effective, and impactful cybersecurity today goes beyond conventional approaches. It requires a holistic understanding of the evolving threat landscape and a proactive approach to risk mitigation. At Cyberint, we are dedicated to providing our clients with the tools and insights they need to stay one step ahead of cyber adversaries."
Every year, Frost & Sullivan presents a Company of the Year award to the organization that demonstrates consistent development in growth strategies, shows a visionary understanding of the future, and effectively addresses new challenges and opportunities in its field.
About Cyberint:
Cyberint's impactful intelligence solution fuses real-time threat intelligence with bespoke attack surface management, providing organizations with extensive integrated visibility into their external risk exposure. Leveraging autonomous discovery of all external-facing assets, coupled with open, deep & dark web intelligence, the solution allows cybersecurity teams to uncover their most relevant known and unknown digital risks – earlier. Global customers, including Fortune 500 leaders across all major market verticals, rely on Cyberint to prevent, detect, investigate, and remediate phishing, fraud, ransomware, brand abuse, data leaks, external vulnerabilities, and more, ensuring continuous external protection from cyber threats.
To learn more about Cyberint, visit the website: https://cyberint.com/